Your Wedding Entertainment tailored to you! 
When you book me for your Wedding you get me.  I am not an Agency so you can be assured that the DJ you get is the person you have been dealing with rather than someone you may have never met.  I prefer to go down the personal service route and I aim to meet with each and every couple who hires me. This gives us both the chance to get to know each other a little better and for the suggestions to flow between us.
Some DJ companies just turn up and play – they have no idea what their clients want and they do not want to find out. Instead, I offer a bespoke service to my customers and rather than call my service a mobile disco, I prefer to use the term Professional Wedding DJ. The service I provide is not for everyone and most of my customers are couples who have a very high regard for quality of service.
I am a very customer focused person and I aim to work for discerning clients who want to work with their Wedding DJ to create the best atmosphere possible. This can only be achieved by a DJ who listens to what the customer wants. Client contact on the run up to the big day is a vital aspect of my service. All couples are given the opportunity to meet up with me to go through their thoughts and wishes for their Wedding Disco. I will offer help and advise on the smooth running of the event and it is ultimately the end client who then decides how they want their evening entertainment to proceed.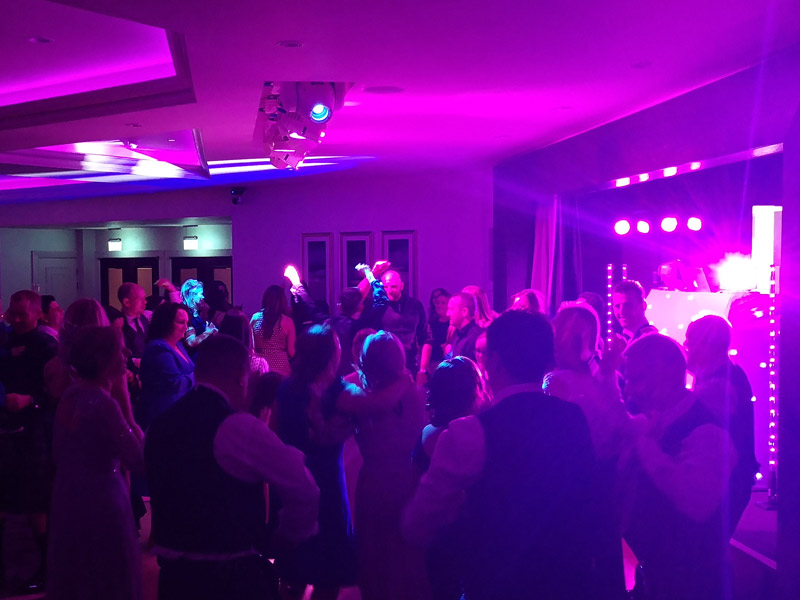 Your wedding - Your Way
My main goal is to give you the night to remember.  I can do this with my vast catalogue of music with a quality sound and lighting system that is appropriate for your chosen venue.  If you want a big show, you can have it.  If you want an unobtrusive setup with minimal lighting, you can have it.  After all, it is your day.
I am constantly updating my DJ equipment to the latest technology so your Wedding reception looks as good as it sounds.  Not only that, I invest in myself – attending Wedding workshops, Master of Ceremony courses and even brushing up on mxing techniques – I am always looking to improve my business to give my clients an outstanding service and value for money – how many other DJ Companies can say that?
Your bespoke wedding DJ includes
A professional and fully trained Wedding DJ with time dedicated to you

The option to meet me in person before your wedding to discuss your requirements (with follow up meetings)

Your personal online planning account to ensure everything goes like clockwork and without the worry

A fully insured and safe DJ and Disco (all equipment is PAT tested and Public Liability £10m)

Full access to music database containing thousands of songs from every era including the very latest hits

Complete freedom to pick and choose what music you want played

Professional starlit DJ Booth in either black or white to suit your colour scheme

Highest quality sound and lighting system.
The setup and first dance
So what does my Wedding setup consist of?  I have a professional looking DJ Booth complete with a choice of black or white starlit cloth.  I also have colour changing podiums which hold my LED moving lights.  My other lighting effects are of a 'wash effect' which lights up the entire room to give a real disco feel. 
For the first dance I have a controlled mirror-ball type effect with a colour wash on the dance floor.  I tend not to go for the 'dot' lighting effect at Weddings as I feel this ruins your photographs.
Your music will be played from the very highest quality sound system which gives unrivalled clarity to even the most discerning listeners.
I carry backup equipment so there are no interruptions in the unlikely event that anything should go wrong.
Please take a look at my gallery for some photographs and others are available upon request.
Your Music - Your Choice
On confirmation of your booking you will be given 2 login details, one for you and one for your guests that you can put on invitations, etc. Both you and your guests can browse my extensive music library and make suggestions on what you would like played and anything that you don't. If there are any songs you cannot find I will be happy to provide these at no extra cost.  I can also do a mix of 2 or more songs for your first dance, again at no extra cost.
You will have full control over your guests' choices so if there is anything you don't want you can remove it.  Many clients are happy to leave the choice of music to me – others have favourites that they really want me to play on the night and some they really don't!
My job is to play the music you want! I am happy to help and advise on your music choices. I have lists of first dances and floor fillers that I can email to you to help compile your favourite tracks. Because I have experience and a vast knowledge of music I can mix your choices together with music I know encourages people to dance'.
I will play some great Motown, some funky soul & disco, along with the best of the 60s through to the Noughties.  A few Club Classics, the greatest tracks from the recent & current charts, some girly greats, a few anthems and all the great party tunes that make a great night.  I can also cater for a Ceilidh set if you wish and walk your guests through some of the old favourites such as Gay Gordons, Dashing White Sergeant and the Military Two Step.
All of my music tracks all legally sourced, so I normally can play any request on the night.  If you have a song that is more obscure, with a little advance notice I can usually get it in time for the function. I promise to play your choice of music throughout the evening. I never forget it's your night and want to play all your favourite tracks. I am more than happy to work to a list of your 'must plays' and of course your 'do not' plays.
If you have your ideas on what you want played, of course share them with me, it's your event, and you can have the music you want!
All Day Wedding Host
I can be more than just your evening wedding DJ so why not consider having me all day to be your wedding MC and Host. I will be there from the time you arrive at the venue to the very last person out of the venue at the end of the night. I can play background music in the lead up to your ceremony, have your choice of music playing as you walk up the aisle and during the signing of the register.  I can then provide music after the ceremony and during the Wedding breakfast as well as providing radio microphones for the speeches.
MOOD LIGHTING, LED DANCE FLOORS, CANDY CARTS, LOVE LETTERS
I provide additional services such as ceremony music and the highly popular Mood Lighting that really brings to life a function room with a splash of colour. I can also provide a Projector and screen for photographs, dry ice for a 'dancing on clouds' effect during your first dance. Other services include custom designed gobos with your name, initials and date of your marriage. These can then be displayed on a wall or straight onto the dance floor.
I also have an excellent relationship with suppliers of candy carts, giant illuminated letters, photo booths and 'sparkly dance floors' and can pass on a great discount to my clients. Please ask me for more details on any of these additional extras.
Please ask me for further details on these and any other effects to enhance your room.
It was amazing! Do you have somewhere for me to tell everyone how brilliant a DJ you are?